Next CATT on Murray is March 13th at Dreher Island State Park!
Strike King Big Bass Challenge is March 14th at Dreher Island State Park!
https://www.strikeking.com/big-bass-challenge
Phantom Outdoors Invitational Lake Murray March 28th Dreher Island State Park $5,000 1st Place
Carl Smith & Josh Rennebaum collected $1,862.00 for 1st place with 5 bass weighing 21.37 lbs! They also brought in the BF at 7.43 lbs! Great cord guys 41 Teams entering!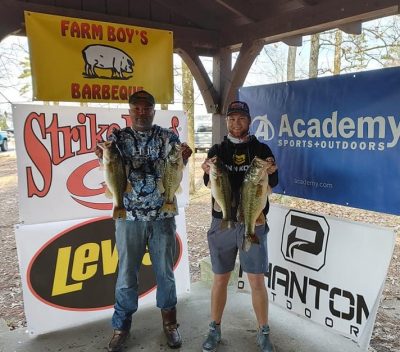 Hampton Anderson & Tyson Alveras finished 2nd with 5 bass weighing 20.72 lbs!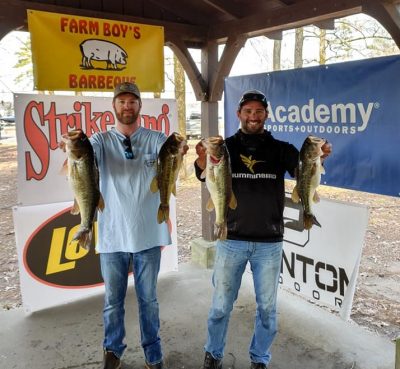 Roger Farr & Rodney Cromer took 4th with 18.84 lbs!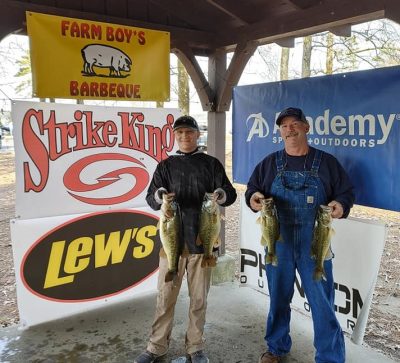 A few more nice Lake Murray bass!
| | | | | | |
| --- | --- | --- | --- | --- | --- |
| Team | BF | Weight | Winnings | Points | |
| Carl Smith – Josh Rennebaum | 7.43 | 21.37 | $1,862.00 | 110 | |
| Hampton Anderson – Tyson Alveras | 6.42 | 20.72 | $450.00 | 109 | |
| Andy Wicker – Steve Wicker | 6.77 | 20.27 | $448.00 | 108 | |
| Roger Farr – Rodney Cromer | 6.35 | 18.84 | $200.00 | 107 | |
| Wade Amick – Zach Huffstetler | 3.94 | 18.04 | $140.00 | 106 | |
| Wayne Jeffcoat – Kevin Banks | 4.46 | 17.73 | $110.00 | 105 | |
| Mark Collins – Bobby Thorton | 4.35 | 17.27 | $100.00 | 104 | |
| Chris Epting – Johnny Mayer | 4.58 | 17.12 | $90.00 | 103 | |
| Scott Farmer – CJ Freeman | 4.13 | 17.08 | | 102 | |
| Ellett Lavisky – Ross Lowder | 5.98 | 15.75 | | 101 | |
| Daniel Grassi – Baker Woodard | 4.19 | 15.25 | | 100 | |
| Joe Quinn – Justin Dunn | 3.90 | 15.22 | | 99 | |
| Jeremiah Jenson – Gage Spagnola | 3.01 | 15.11 | | 98 | |
| Bradey Rhodes – Chris Dorlan | 3.88 | 14.98 | | 97 | |
| Justin McGrady – AJ Dipetero | 4.08 | 12.31 | | 96 | |
| Les Westberry – Wyatt Westberry | 3.52 | 12.24 | | 95 | |
| Will Anderson – Kyle Cannon | 3.99 | 12.19 | | 94 | |
| Weston Thomas – Dylan Sills | 3.34 | 12.16 | | 93 | |
| Jason Ries – Roger McKee | 4.37 | 11.78 | | 92 | |
| Mark Krengel – Ron Wood | 3.08 | 11.72 | | 91 | |
| Tim Harmon – Tyler Harmon | 3.22 | 11.67 | | 90 | |
| Greg Glouse – Joe Anders | 5.98 | 10.42 | | 89 | |
| Doug Wooldridge – Eddie Coto | 3.25 | 10.22 | | 88 | |
| Casey Jackson – Sam Browne | 2.95 | 8.46 | | 87 | |
| Neil Huffstetler – Tim Huffstetler | 4.25 | 8.02 | | 86 | |
| Hunter ? – TJ Edmunds | 3.87 | 7.53 | | 76 | |
| Todd Ledford | 0.00 | 0.00 | | 76 | |
| Jody Wright – Chris Marshall | 0.00 | 0.00 | | 76 | |
| Matt Benge – Josh Benge | 0.00 | 0.00 | | 76 | |
| Daniel Batson – David Childers | 0.00 | 0.00 | | 76 | |
| Chad Hastings | 0.00 | 0.00 | | 76 | |
| Donald Shouffer | 0.00 | 0.00 | | 76 | |
| Rhett Manus – Kevin Sanders | 0.00 | 0.00 | | 76 | |
| Cameron Holley – David Holley | 0.00 | 0.00 | | 76 | |
| Tim Slice – Jake Wright | 0.00 | 0.00 | | 76 | |
| Jake Brock – William Brock | 0.00 | 0.00 | | 76 | |
| Liam West – Colton Parrott | 0.00 | 0.00 | | 76 | |
| Scott Bryant – Tyler Green | 0.00 | 0.00 | | 76 | |
| Frankie Sciosia | 0.00 | 0.00 | | 76 | |
| Phillip Anderson – Andy Lake | 0.00 | 0.00 | | 76 | |
| Jeff Mayers | 0.00 | 0.00 | | 76 | |
| Total Entrys | | | $3,280.00 | | |
| BONUS $$ | | | $775.00 | | |
| Total Paid At Ramp | | | $3,400.00 | | |
| 2021 Murray Spring Final Fund | | | $455.00 | | |
| 2021 CATT Championship Fund | | | $50.00 | | |
| 2021 Murray Spring Final Fund | | | $1,260.00 | | |
| 2021  CATT /Phantom Championships | | | $1,160.00 | | |
| | | | | | |