Next Lake Murray CATT Fall Qualifier is this Saturday at Dreher Island! Store side! Get there early as there is a High School tournament at the Tournament Ramp! You may put in at another ramp if you want!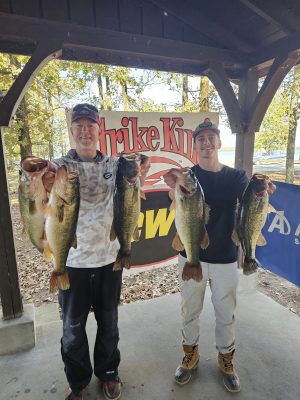 Darryl Starkey – Garrett Starkey win Murray! They weighed in a limit at 21.41 lbs!

Tyson Alvanos – Hampton Anderson 2nd with 18.62 lbs!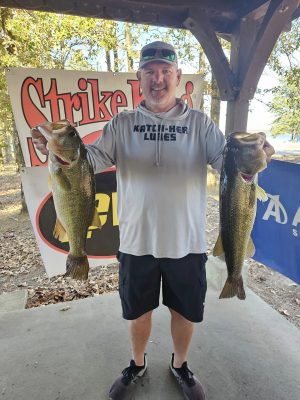 Jody Wright with the BF at 5.62 lbs!
| | | | | |
| --- | --- | --- | --- | --- |
| Team | BF | Weight | Winnings | Points |
| Darryl Starkey – Garrett Starkey | 5.18 | 21.41 | $954.00 | 110 |
| Hampton Anderson – Tyson Alvanos | 4.87 | 18.62 | $200.00 | 109 |
| George Berry | 4.71 | 16.99 | | 108 |
| Edgar Alewine – Will Alewine | 2.84 | 12.21 | | 107 |
| Jeremy Medlock – Joseph Metts | 4.60 | 11.68 | | 106 |
| Johnny Mayer – Chris Epting | 3.63 | 11.61 | | 105 |
| Jody Wright | 5.62 | 10.82 | $91.00 | 104 |
| Jason Ries – Roger Mckee | 2.83 | 9.30 | | 103 |
| Andre Norman – Shannon Morris | 2.55 | 2.55 | | 102 |
| Wyatt Keisler – Todd Kiesler | 0.00 | 0.00 | | 92 |
| Rob Osborne – Don Burnett | 0.00 | 0.00 | | 92 |
| Matt Mollohan | 0.00 | 0.00 | | 92 |
| Joe Quinn – Tyler Causey | 0.00 | 0.00 | | 92 |
| Total Entrys | | | $1,040.00 | |
| BONUS $ | | | $525.00 | |
| Total Paid At Ramp | | | $1,245.00 | |
| Murray 2023 Fall Final Fund | | | $220.00 | |
| CATT | | | $50.00 | |
| 2024 CATT Championship Fund | | | $50.00 | |
| 2023 Murray Fall Final Total | | | $220.00 | |