Next Lake Wateree Open is June 24th at Clearwater Cove Marina!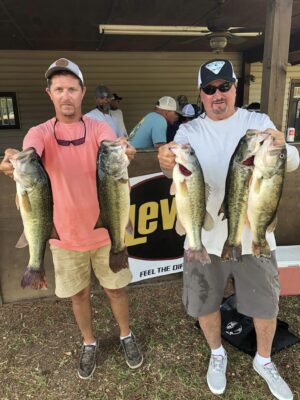 Chad Sims & Steve Phillips win with 5 bass weighing 18.02 lbs!
Chad Rabon & Walt Almond 2nd with 17.35 lbs!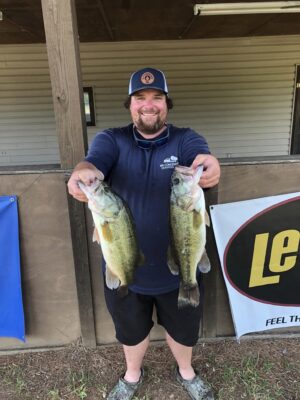 Michael Richardson 3rd with 16.75 lbs!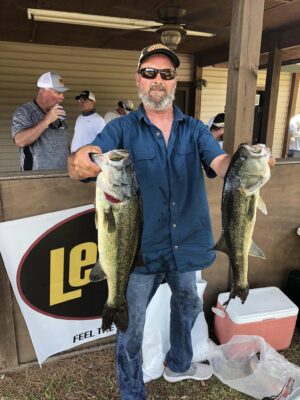 Greg & Gage Sigman 4th with 16.62 lbs and the BF at 5.49 lbs!
| | | | | |
| --- | --- | --- | --- | --- |
| Team | BF | Weight | Winnings | Points |
| Steve Phillips & Chad Sims | 4.54 | 18.02 | $940.00 | 110 |
| Walt Almond & Chad Rabon | 4.02 | 17.35 | $280.00 | 109 |
| Michael Richardson | 4.78 | 16.75 | $181.00 | 108 |
| Greg Sigmon & Gage Sigmon | 5.49 | 16.62 | $119.00 | 107 |
| Butch Williams & Max Price | 3.93 | 16.13 | | 106 |
| Dylan Locklear & Jonathan Daily | 3.65 | 15.30 | | 105 |
| Chad Gainey & Mack Kitchens | 3.69 | 14.81 | | 104 |
| Nathan Manning & Nathan Manning Jr | 4.04 | 14.29 | | 103 |
| Jeff Norris & Jacob Norris | 3.18 | 14.22 | | 102 |
| Max Terry & Freddie Gibbs | 3.93 | 13.58 | | 101 |
| Bob Weaver & Scott Floyd | 3.63 | 13.45 | | 100 |
| Alvin Shaw & Brett White | 3.59 | 12.30 | | 99 |
| Paul Wells & Craig Haven | 2.84 | 11.92 | | 98 |
| Jarrod Thompson & Wayne Gainey | 3.14 | 11.86 | | 97 |
| Colden Baker & Jaylin White | 2.74 | 11.63 | | 96 |
| Ryan Manors & Landon Jordan | 3.74 | 11.36 | | 95 |
| Danny Gibson & Kellan Gibson | 2.45 | 9.45 | | 94 |
| Cole Jackson & Abby Jackson | 0.00 | 0.00 | | 84 |
| | | | | |
| 2023 Wateree Open Points | | | $1,165.00 | |
| 2023 Wateree Open Final | | | $915.00 | |