Next and last Kerr 2019 Spring Qualifier is April 14th at Occonnechee State Park! 
Go to the top of the CATT Hompage and click on 'Divisions" for info on the 2019 CATT Academy Sports Championship on Kerr June 1-2! $10,000 1st Place but it can be much more!

https://www.cattteamtrail.com/divisions/catt-10000-championship/
**Also the Carolinas Bass Challenge is coming to Kerr May 4th! $8,000/$10,000 1st Place! If you enter the CBC May 4th it will count as 1 of your qualifiers to enter the 2019 CATT Championship in June!
Click on the Carolinas Bass Challenge logo for more info!
We had a fantastic crowd this past weekend on Kerr! 57 teams launched from Occoneechee competing for a total of $7,815.00! Thanks for the support and thanks to Trip Emerson for running a great tournament trail!
Cullen Ports & Justis Bobbitt weighed in 18.18 lbs and took 1st Place worth $1,900.00! Add in the 1st place BONUS which was another $750.00 and they took home $2,650.00!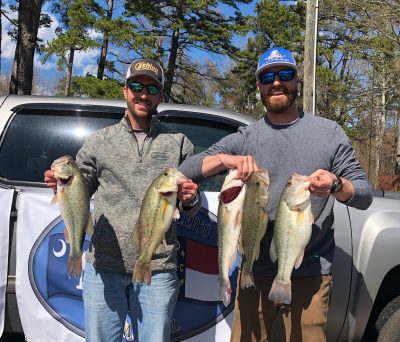 Trey Nichols & Mike Carden claimed 2nd with 17.44 lbs and earned $1,000.00 plus the 2nd BONUS at $565.00 for a total of $1,565.00!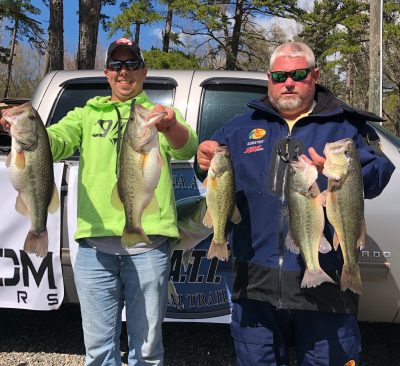 Randy & Jimmy Taylor earned $910.00 with the 3rd BONUS added in with a weight of 17.21 lbs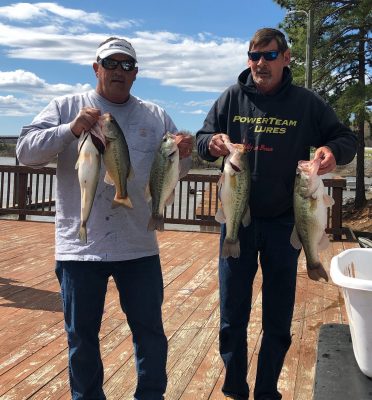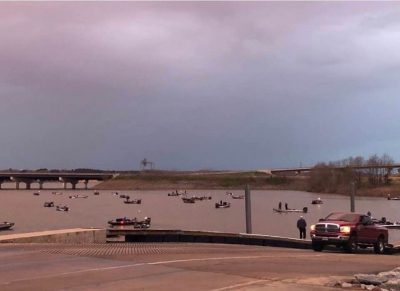 Kerr Mar 31, 2019
Big
Total
57 Teams
Fish
Weight
Winnings
Points
Justis Bobbitt-Cullen Ports
3.92
18.18
$2,650.00
110
Mike Carden-Trey  Nichols
4.44
17.44
$1,565.00
109
Randy Taylor-Jimmy Taylor

5.04

17.21
$910.00
108
Thomas Tarrell- Tim Thurman  2nd BF

5.23

15.94
$721.00
107
Bryan Welch-Tyler Purcell
4.16
15.49
$400.00
106
Ross Oliver – Brad Cook
3.53
15.44
$300.00
105
Mike Nichols-Mike Nichols
3.61
14.38
$235.00
104
Paul Smith – Jason Lloyd
3.77
14.19
$190.00
103
Mike Birr- Joe Trinko
4.26
14.09
$175.00
102
Cole Blythe – Steve Blythe  1st BF
5.30
14.02
$544.00
101
James Condrey – Jimmy Condrey
3.55
14.00
$125.00
100
Sam Terry – Jacob Lee
3.67
13.99
99
Curtis Talbott-Johnny Woodie
3.60
13.73
98
Mike Perkins – John James
4.19
13.64
97
Randy Carr – Mike Eggers
4.32
13.54
96
Calvin Young – Rob Wells
3.45
13.33
95
Donnie Avant – Randy Waterman
3.13
13.28
94
Carl Enos –  Derek Moyer
3.85
13.26
93
Dennis Reedy – Tommy Marrow
4.78
13.08
92
Walt Bowen – Mark Jackson
0.00
12.78
91
Justin Rue – Roger Cleary
0.00
12.52
90
Aaron Falwell – Steven Coleman
3.57
12.17
89
David Owens  – Danny Houchins
4.51
12.04
88
Ron Linebach – Chris Barnes
3.04
12.03
87
Steve Miller -Scott Mathews
2.89
12.03
86
Richard Owen – Austin Minton
3.12
11.99
85
Reggie Norfleet – Charles Gunter
4.17
11.77
84
Kenny Reynolds – Ryan Reynolds
2.97
11.70
83
Craig Wright – Mickey Bergeron
4.67
11.43
82
Jenkins- Jason Kopp
0.00
10.99
81
Tony Toombs- David Jones
0.00
10.67
80
Robert Bristow-Adam Haithcock
0.00
10.53
79
Jason Suggs
0.00
10.38
78
William Hubbard – Chase Cooper
0.00
10.37
77
Dennis Duncan – Mark Merretts
3.67
10.34
76
Ernest Howell – Elayja Howell
0.00
10.13
75
Frank Bowers – Mike Franklin
2.36
10.12
74
Allen White – Mike Vaughn
0.00
9.55
73
Kevin Cheatham – Johnny Wilder
0.00
9.55
73
Matt Norris – Alex King
4.26
9.49
71
Dana Moore – Mike White
3.76
9.45
70
Jimmy  Henderson-David Bullock
4.36
9.18
69
Jonathan Jones – Brycen Peed
0.00
8.06
68
Marty Warren – Michael Chlomoudus
0.00
7.79
67
David Enos – Brent Enos
0.00
6.91
66
Hal Blackwelder-Cliff Swann
0.00
6.87
65
Ben Dalton – Collins Bennett
0.00
6.79
64
Jay Fogleman – Tate Fogleman
0.00
5.95
63
Darrick Bowden – Matt Little
0.00
3.40
62
Joe Freet – Josh Wood
0.00
0.00
61
Glenn Long – Vernon Fleming
0.00
0.00
61
Sean Lewis – Kevin Kane
0.00
0.00
61
Tony Miliam – Johnathan Miliam
0.00
0.00
61
Monte Alemon – Kevin Alemon
0.00
0.00
61
Tyler Calloway- Zach Frank
0.00
0.00
61
Larry Inman – Garth Joyce
0.00
0.00
61
David Frey – Bubba Haywood
0.00
0.00
61
Total Entrys
$6,840.00
BONUS $
$1,600.00
Total Paid At Ramp
$7,815.00
Kerr 2019 Spring Final Fund
$505.00
2019 CATT Championship Fund
$90.00
2019 Kerr Spring Final Fund Total
$1,425.00
2019 CATT Championship Fund Total
$4,580.00