**Remember guys you have to enter 3 CATT Qualifiers to be able to enter the June 2-3 CATT Championship on Kerr $10,000 1st Place! You can make your 3 by having fished any FALL 2017 CATT Trails and by fishing any SPRING CATT Trails—the 3 don't have to be in the same Division!
**Also to be eligible to enter the 2018 SENC Final you only have to fish 1 Spring SENC Qualifier!
Next SENC Qualifier is May 19th at the Cape Fear River – Elwells Ferry! This is a double point event and your last chance to make the Final!
Jason Dew & Thomas Elliot took 1st place this past Saturday with 16.93 lbs and weighed the 2nd BF at 5.33 lbs! They also claimed the BONUS $ and took home a total of $914.00!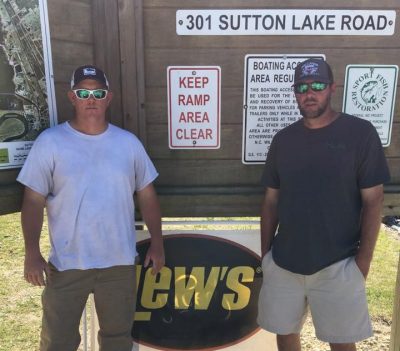 Jeff Galloway & Greg Johnson took 2nd with 13.08 lbs and received $225.00!
3rd went to Neil Smith & Jimmy Roughton with 13.03 lsb and claimed $100.00!
Ray Gerald weighed the 1st BF at 5.51 lbs and took home $126.00 and an Academy Gift Card!

| | | | | |
| --- | --- | --- | --- | --- |
| 18 Teams | Big | Total | Total |   |
|                                    Team | Fish | Weight | Winnings | Points |
| Jason Dew – Thomas Elliot  2nd BF | 5.33 | 16.93 | $914.00 | 110 |
| Jeff Galloway – Greg Johnson | 3.91 | 13.08 | $225.00 | 109 |
| Neil Smith – Jimmy Roughton | 4.04 | 13.03 | $100.00 | 108 |
| Aaron Dennis – Scott Long | 3.75 | 12.24 | | 107 |
| Chris Savage – Michael Campbell | 4.27 | 12.15 | | 106 |
| Ray Gerald   1st BF   Academy Gift Card | 5.51 | 11.92 | $126.00 | 105 |
| Michael Gerrell – DJ Russell | 3.08 | 11.34 | | 104 |
| Joe High | 2.87 | 10.77 | | 103 |
| Todd Turner – WT Davis | 3.63 | 10.58 | | 102 |
| Mike Burney – Mike Kenlaw | 4.57 | 10.40 | | 101 |
| James Davis – Deloris Evans | 4.41 | 9.13 | | 100 |
| Marshall Padrick – Christian Paul Desantes | 4.08 | 8.23 | | 99 |
| Tony Davis – Ashely Cotrell | 4.96 | 7.57 | | 98 |
| Jamie Milam – Michael Milam | 0.00 | 5.68 | | 97 |
| Roby Wyatt – Mike Prytula | 3.23 | 4.63 | | 96 |
| Travis Priest – Ricky Priest | 3.12 | 4.44 | | 95 |
| Matt Johnson – Matt Futrell | 0.00 | 0.00 | | 94 |
| Zachery Gulbroson – Jordan Tilton | 0.00 | 0.00 | | 94 |
| Total Entrys |   |   | $1,440.00 | |
| BONUS $ |   |   | $360.00 | |
| Total Paid At Ramp |   |   | $1,365.00 | |
| 2018 SENC Spring Final Fund |   |   | $385.00 | |
| 2018 CATT Championship Fund |   |   | $50.00 | |
|   |   |   |   | |
| 2018 SENC Spring Final Fund Total |   |   | $960.00 | |
| 2018 CATT Championship Fund Total |   |   | $4,330.00 | |