Next Tidewater Spring Qualifier is April 8th on the Chowan River launching from Pembroke Creek. We are off to a great start with 41 teams entering the 1st 2023 Tidewater Qualifier!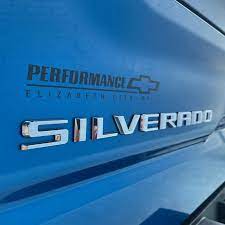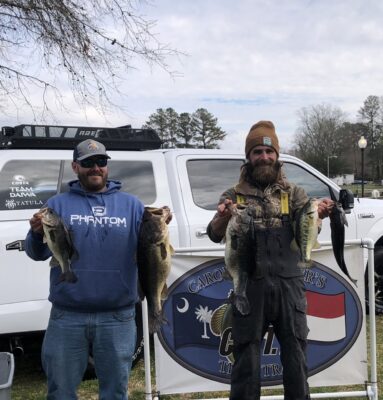 We got the 2023 season of the

CATT Tidewater Division

started today with a tournament On the Pasquotank River. The weather started out nasty and the cloudy drizzle persisted throughout the day. The cold front finally made it presence felt mid morning and most fisherman reported it shut down the bite almost entirely. We were lucky enough to get some sunshine and decent weather for weigh in but the cold front had taken its toll on the weights for this event. The team of Andrew George and Jordan Sanderlin got it done in quick fashion this morning before the cold front and weighed a very impressive bag weighing 21.34 lbs. anchored by a 9.03 river monster!! They took home a $2,336.00 payday! The team of Ken Kipler and Shawn Dunlap had a good bag weighing 16.42 lbs with second big fish of the day weighing 8.24 lbs earning a couple checks totaling $923.00! Rounding out the top three was the team of Keith Jennings and Scott Hickman with a very respectable bag weighing 14.89 lbs on a day that turned out to be a lot tougher than anyone thought it would be. Complete results are attached below.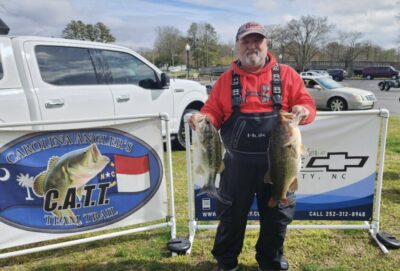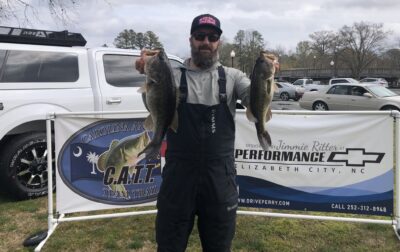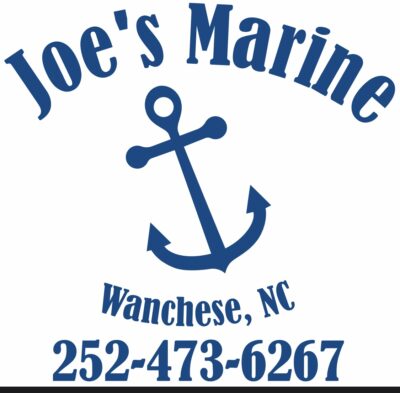 | | | | | |
| --- | --- | --- | --- | --- |
| Team | BF | Weight | Winnings | Points |
| Jordan Sanderlin/ Andrew George | 9.03 | 21.34 | $2,336.00 | 110 |
| Ken Kipler/ Shawn Dunlap | 8.24 | 16.42 | $923.00 | 109 |
| Keith Jennings/ Scott Hickman | 4.48 | 14.89 | $500.00 | 108 |
| David Buchanan/ Brian Richardson | 0.00 | 14.15 | $350.00 | 107 |
| Chris Pike/ Rick Plemons | 5.85 | 13.86 | $280.00 | 106 |
| Michael Evans/ Brian Meadows | 3.80 | 13.41 | $200.00 | 105 |
| Matt Anderson | 4.22 | 12.55 | $150.00 | 104 |
| Tony Baker | 4.04 | 12.53 | $120.00 | 103 |
| Alan Meads/ Chris Meads | 4.70 | 12.31 | | 102 |
| Bubba Banks/ Tommy Banks | 0.00 | 11.75 | | 101 |
| Kirk Nixon/ Trent Nixon | 0.00 | 11.28 | | 100 |
| Darren Saunders/ Dave Parker | 0.00 | 10.73 | | 99 |
| Ray Cob /Mark Moretz | 0.00 | 10.33 | | 98 |
| Chris Turner/ Quintin Chappell | 3.50 | 9.93 | | 97 |
| Jobie Walker/Chris Napier | 0.00 | 9.50 | | 96 |
| Randy Broughman/ Ryan Broughman | 0.00 | 9.16 | | 95 |
| Nick Meek/ Kyle Verkullen | 0.00 | 8.39 | | 94 |
| Tim Fallon/ Richard Griswold | 0.00 | 8.11 | | 93 |
| Kenneth Moore/Joseph Eure | 0.00 | 7.86 | | 92 |
| Jim Dick/ Greg Dick | 3.79 | 7.75 | | 91 |
| Nathan Welch/ Ethan Welch | 0.00 | 6.59 | | 90 |
| David Ward/ Vern Townsend | 0.00 | 6.46 | | 89 |
| Steve Brickhouse/James Williams | 0.00 | 4.79 | | 88 |
| Wayne Hayes/ Andy Morath | 4.11 | 4.11 | | 87 |
| Brian Cooper/ Heath Parker | 3.81 | 3.81 | | 86 |
| Eugene Foushee/ Brandon Johnson | 0.00 | 3.53 | | 85 |
| Al Biagioni/ John LaRock | 0.00 | 3.15 | | 84 |
| Mike Knapp/ Ben Knapp | 0.00 | 1.91 | | 83 |
| Hunter Holloman/Bryan Hendricks | 0.00 | 1.46 | | 82 |
| Scott Rock/ Jaden Rock | 0.00 | 0.00 | | 72 |
| Derek Goodman/ Gary Debrito | 0.00 | 0.00 | | 72 |
| Mike Scott/ JP Scott | 0.00 | 0.00 | | 72 |
| David Shaffer/ Scott Shaffer | 0.00 | 0.00 | | 72 |
| Bob Clarkson/ Mark Ingram | 0.00 | 0.00 | | 72 |
| Ronnie Ketchum/ Benny Hendricks | 0.00 | 0.00 | | 72 |
| Jeff Hayden/ Dereck Hayden | 0.00 | 0.00 | | 72 |
| Cody Matthews/ Marty Matthews | 0.00 | 0.00 | | 72 |
| Chris Banks/ Zachery Meads | 0.00 | 0.00 | | 72 |
| Stephen Cardwell/Avery White | 0.00 | 0.00 | | 72 |
| Brent Thomas/ Ethan Thomas | 0.00 | 0.00 | | 72 |
| Michael Wentre/ William Chapel | 0.00 | 0.00 | | 72 |
| Total Entrys | | | $4,920.00 | |
| BONUS $ | | | $450.00 | |
| Total Paid At Ramp | | | $4,860.00 | |
| CATT | | | $50.00 | |
| 2023 Tidewater Final Fund | | | $385.00 | |
| 2023 CATT Championship Fund | | | $75.00 | |
| 2023 Tidewater Final Fund Total | | | $385.00 | |