Next Lake Wateree CATT is this coming Saturday April 13th and is the Spring Final! 
Wateree has experienced high water levels the past few year and no doubt it's affected the fishing but looking at the bass weighed in yesterday, they were fat and healthy!
Mike Ware & Bryan Holmes earned 1st Place with 5 bass weighing 20.05 lbs and 2nd BF weighing 5.10 lbs! They took home $1,144.00!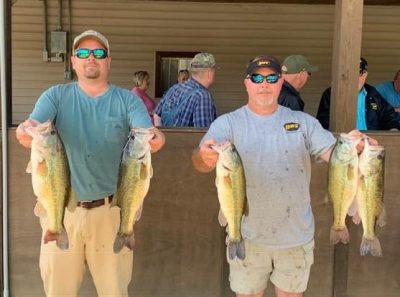 Greg Atkinson & Ron Catoe weighed in the BF at 7.04 lbs and finished 2nd with 5 bass weighing 19.99 lbs!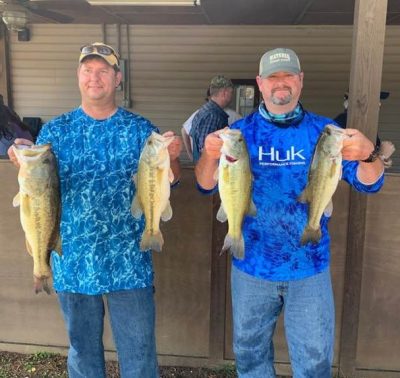 Chad Gainey & Mack Kitchens finished 3rd with 18.55 lbs! They win the points and will fish the Final free!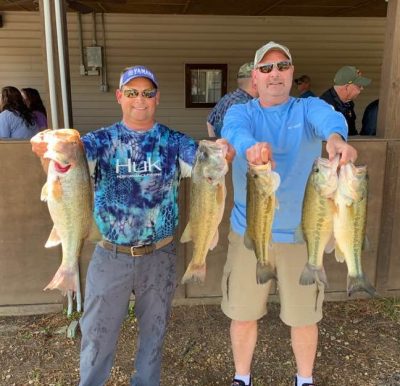 Donald Hinson & Alan Fletcher 4th with 17.38 lbs!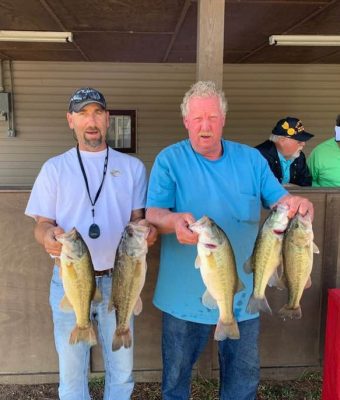 Mike King & Chris King 5th with 17.03 lbs!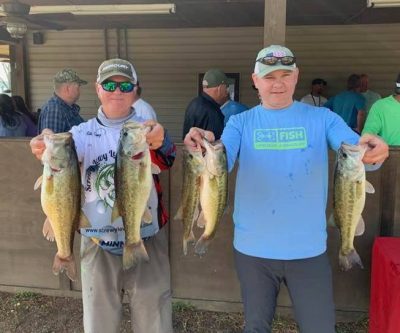 | | | | | |
| --- | --- | --- | --- | --- |
| | Big | Total | Total | |
| 22 Teams | Fish | Weight | Winnings | Points |
| Mike Ware – Bryan Holmes | 5.10 | 20.05 | $1,144.00 | 110 |
| Greg Atkinson – Ron Catoe | 7.04 | 19.99 | $461.00 | 109 |
| Chad Gainey – Mack Kitchens | 5.03 | 18.55 | $200.00 | 108 |
| Alan Fletcher – Donald Hinson | 4.68 | 17.38 | $120.00 | 107 |
| Mike King – Chris King | 4.76 | 17.03 | | 106 |
| Scott Williams – Robbie English | 4.83 | 16.14 | | 105 |
| Craig Nettles | 4.50 | 15.53 | | 104 |
| John Paul George – Jason Quinn | 3.53 | 15.41 | | 103 |
| Lee Royson – Jeff Reynolds | 4.25 | 15.40 | | 102 |
| Barry Brown – Steven Walker | 3.64 | 14.56 | | 101 |
| Tim Haven – Craig Haven | 4.47 | 14.29 | | 100 |
| Scott Floyd – Bob Weaver | 3.46 | 13.69 | | 99 |
| David L. Canupp – David F. Canupp | 3.93 | 13.38 | | 98 |
| Brett Collins – Brad Petway | 3.54 | 13.14 | | 97 |
| Mark Healon – Tony Truett | 3.72 | 11.89 | | 96 |
| Donald Wells – Paul Wells | 3.76 | 10.43 | | 95 |
| Mike Ellis – Mark Faircloth | 4.49 | 6.92 | | 94 |
| Shane Cantley – Michael Richardson | 2.83 | 2.83 | | 93 |
| Dean Benfield – Sonny Beam | 0.00 | 0.00 | | 92 |
| Daryl Watson – Ken McFarland | 0.00 | 0.00 | | 92 |
| Issac Newton – Alfonzo Smalls | 0.00 | 0.00 | | 92 |
| John Allen | 0.00 | 0.00 | | 92 |
| Total Entrys | | | $1,760.00 | |
| BONUS $ | | | $550.00 | |
| Total Paid At Ramp | | | $1,925.00 | |
| Wateree 2019 Spring Final Fund | | | $305.00 | |
| 2019 CATT Championship Fund | | | $50.00 | |
| 2019 Wateree Spring Final Fund Total | | | $2,380.00 | |
| 2019  CATT Championship Fund Total | | | $4,410.00 | |