Next Wateree CATT is July 13! This is the last Summer Qualifier and if you want to be eligible to enter the Summer Final July 20 this is your last chance to join! You only have to enter 1 CATT Qualifier to be eligible to enter the CATT Summer Final!
CATT 2019 PHANTOM OUTDOORS INVITATIONAL
Presented by Phantom Outdoors Tournament Grade Fishing Apparel!

Bucksport Marina, Waccamaw River
July 27th
$5,000.00 1st Place
Click on the Phantom Invitation on the Division Section for more info!
Chad Gainey & Mack Kitchens brought in 5 bass at 18.29 lbs and took home $1,000.00!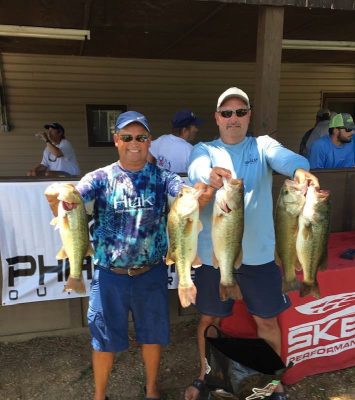 2nd went to Tim & Craig Haven with a limit weighing 17.61 lbs and they had the BF at 5.58 lbs! They received a $25 Academy Gift Card!
Jacob & Jeff Norris claimed 3rd with 5 bass weighing 16.13 lbs!
Jimmy McFarland & Calvin Griggs took 4th with 14.90 lbs!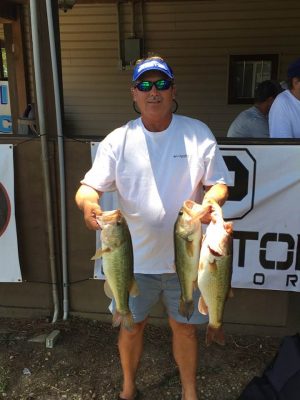 Brad Petway with the 2nd BF at 5.16 lbs!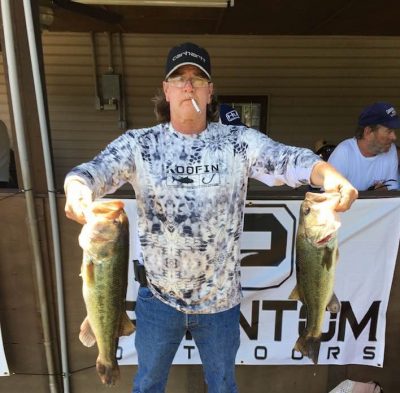 | | | | | |
| --- | --- | --- | --- | --- |
| | Big | Total | Total | |
| 23 Teams | Fish | Weight | Winnings | Points |
| Chad Gainey – Mack Kitchens | 4.44 | 18.29 | $1,000.00 | 110 |
| Tim Haven – Craig Haven | 5.58 | 17.61 | $461.00 | 109 |
| Jacob Norris – Jeff Norris | 3.70 | 16.13 | $200.00 | 108 |
| Jimmy McFarland – Clavin Griggs | 3.59 | 14.90 | $120.00 | 107 |
| Lee Morris – Robert Ross | 4.77 | 14.89 | | 106 |
| Brett Collins – Brad Petway | 5.16 | 14.20 | $69.00 | 105 |
| Mike King – Chris Crawford | 3.23 | 13.83 | | 104 |
| Butch Williams – Jason Quinn | 3.20 | 13.40 | | 103 |
| Donald Wells – Paul Wells | 3.06 | 12.49 | | 102 |
| Chad Rabon – Walt Almond | 2.93 | 12.30 | | 101 |
| Jason Bateman – Steve Phillips | 2.96 | 12.30 | | 100 |
| Jimmy LeShock – Chis Baumgardner | 0.00 | 12.27 | | 99 |
| Steven Smith – James Smith | 2.72 | 11.98 | | 98 |
| Scott Floyd – Bob Weaver | 3.33 | 11.76 | | 97 |
| Allen Fletcher – Von Vandam | 0.00 | 10.98 | | 96 |
| Bobby Purvis – Matt Ross | 0.00 | 8.95 | | 95 |
| Mike Byrd – Skeebo Kelly | 0.00 | 0.00 | | 94 |
| Chad Sims – Jeff Knight | 0.00 | 0.00 | | 94 |
| David Canupp – David Canupp | 0.00 | 0.00 | | 94 |
| Bubba Baker – Colden Baker | 0.00 | 0.00 | | 94 |
| Michael Ard – Seth Ard | 0.00 | 0.00 | | 94 |
| Greg Sigmon | 0.00 | 0.00 | | 94 |
| Steve Walker – Win Walker | 0.00 | 0.00 | | 94 |
| Total Entrys | | | $1,840.00 | |
| BONUS $ | | | $475.00 | |
| Total Paid At Ramp | | | $1,850.00 | |
| Wateree 2019 Summer Final Fund | | | $360.00 | |
| 2020 CATT Championships | | | $75.00 | |
| 2019 Wateree Summer Final Fund Total | | | $1,870.00 | |
| 2019 CATT Championship Fund Total | | | $1,605.00 | |