We had a great crowd at Badin with 36 teams entering the 1st Yadkin 2023 Spring Trail Qualifier! Next Yadkin Qualifier is March 26 at High Rock launching from Southmont!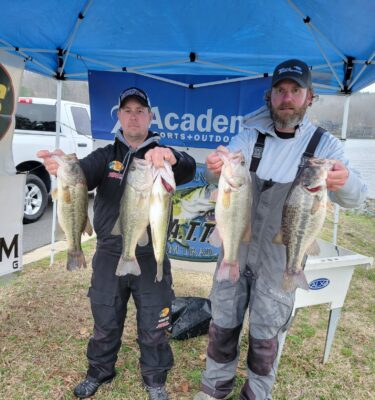 Aaron Harwood & Michael Kinard claimed 1st Place with 5 bass weighing 16.68 lbs! They collected $1,303.00!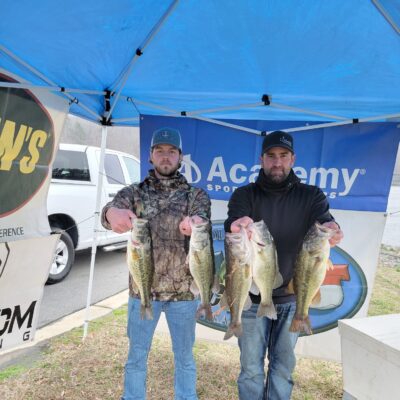 Hunter Butler & Rodney Adams took 2nd with 14.86 lbs!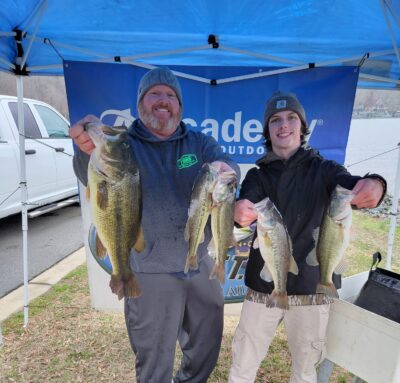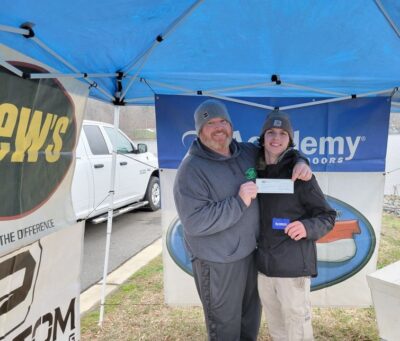 Jeffrey & George Furr finished 3rd with 14.61 lbs and weighed in the Academy BF at 6.95 lbs!
| | | | | |
| --- | --- | --- | --- | --- |
| Team | BF | Weight | Winnings | Points |
| Michael Kinard – Aaron Harwood | 0.00 | 16.68 | $1,303.00 | 110 |
| Rodney Adams – Hunter Butler | 0.00 | 14.86 | $555.00 | 109 |
| Jeffrey Furr – George Furr | 6.95 | 14.61 | $629.00 | 108 |
| Skip Jobe – Robie Moffit | 0.00 | 14.53 | $200.00 | 107 |
| Dusty Taylor – Kolton Hawks | 0.00 | 14.49 | $130.00 | 106 |
| Kevin Farley | 6.90 | 14.48 | $218.00 | 105 |
| Branson Palmer – Duke Page | 0.00 | 14.29 | $100.00 | 104 |
| Bryson Garland | 4.39 | 14.26 | | 103 |
| Jacob Bridges – Brady Weisner | 0.00 | 13.91 | | 102 |
| Rodney Thomas | 0.00 | 13.33 | | 101 |
| Hunter Harwood – Scott Harwood | 0.00 | 13.33 | | 100 |
| Mike Kiser – Matt Stanley | 0.00 | 13.06 | | 99 |
| Dustin Horne – Bud Ratliff | 0.00 | 13.03 | | 98 |
| Craig Gatewood | 0.00 | 12.91 | | 97 |
| Dakota Roberts – Carl Myers | 0.00 | 12.57 | | 96 |
| Matt McBee – Alan Fletcher | 0.00 | 11.69 | | 95 |
| Hayden Strickland – Nick Williams | 0.00 | 11.67 | | 94 |
| Chris Wagner – Greg Deal | 0.00 | 11.56 | | 93 |
| Curt Lare – Devin Kennedy | 0.00 | 11.31 | | 92 |
| Kris Scelsi – Zach Scelsi | 0.00 | 11.02 | | 91 |
| Joshua Stafford – Brett Lane | 4.98 | 10.76 | | 90 |
| Michael Swaringen – CJ Johnston | 0.00 | 10.56 | | 89 |
| Nick Bashford – Brian File | 0.00 | 10.53 | | 88 |
| Robert Branson – Andrew Wilson | 0.00 | 10.00 | | 87 |
| Tony Foster – Chris Coleman | 0.00 | 8.71 | | 86 |
| Pher Turbyfill – Billy Cobb | 0.00 | 6.66 | | 85 |
| Noah Beck – Brett Landon | 0.00 | 5.28 | | 84 |
| Chris Mote – John Gaddy | 0.00 | 3.17 | | 83 |
| Bradley Cooper – Duston Holt | 0.00 | 1.74 | | 82 |
| Roby Wyatt -Mike Prytula | 0.00 | 0.00 | | 72 |
| Mark Mohler – Graeme Bosch | 0.00 | 0.00 | | 72 |
| Derek Tolley – Brittany Lohan | 0.00 | 0.00 | | 72 |
| Tanner Werth – Taylor Werth | 0.00 | 0.00 | | 72 |
| Paul Tsiolkas – Anthony Tsiolkas | 0.00 | 0.00 | | 72 |
| Brian Robbins – Gavin Williams | 0.00 | 0.00 | | 72 |
| Alan Griffin – Kevin Chandler | 0.00 | 0.00 | | 72 |
| Total Entrys | | | $2,880.00 | |
| BONUS $ | | | $775.00 | |
| Total Paid At Ramp | | | $3,135.00 | |
| CATT | | | $50.00 | |
| 2023 Yadkin Spring Final Fund | | | $420.00 | |
| 2023 CATT Championship Fund | | | $50.00 | |
| 2023 Yadkin Spring Final Fund Total | | | $420.00 | |