We had a great year on Kerr! The total payback for the CATT Kerr Division was $38,180.00! Thanks for fishing CATT and we're looking forward to 2018! The 2018 Spring Kerr Trail is posted so make plans and be there! Don't forget about the 2018 CATT Championship coming in on Kerr…
John H Kerr
June 2-3, 2018
New Nutbush Ramp/Kerr State Park
$10,000.00 1st Place
GAURANTEED
$200 Team Entry
$50 BONUS – Paid Top 4 places in the $50 BONUS 
$100 Platinum BONUS – Paid to the Top Team in the
Platinum Bonus!
A Team Must Enter 3 Qualifiers in CATT Divisions!
Can be 3 in 1 Division or 3 combined from any CATT Divisions! Finals count also!
Dennie Gilbert & Charlie Reed won the 2017 Kerr Spring Final and they concluded the sweep this past Saturday as they brought in 17.97 lbs good for the win! They also weighed the 1st BF at 6.75 lbs and took home a total of $2,578.00! They also received a Lews Mach II Custom Speed Stick!
2nd went to Brian Calloway & William Hubbard with 5 bass weighing 17.50 lbs. They earned $1,230.00!
Tyler & Ricky Trent brought in 16.61 lbs and took 3rd worth $607.00! They brought in the 2nd BF at 5.14 lbs and received a Lews Mach II Speed Spool Baitcast Reel!
The last money paying place went to Brandon Grey & Robert Perkins with 15.13 lbs and they collected $15.13 lbs!
| | | | |
| --- | --- | --- | --- |
|  Team | Big Fish | Weight | Winnings |
| Dennie Gilbert – Charlie Reed  1st Bonus $ 1st BF | 6.75 | 17.97 | $2,578.00 |
| Brian Calloway – William Hubbard   2nd Bonus $ | 4.61 | 17.50 | $1,230.00 |
| Tyler Trent – Rickey Trent    3rd Bonus $ 2nd BF | 5.14 | 16.61 | $607.00 |
| Brandon Grey – Robert Perkins | 3.75 | 15.13 | $220.00 |
| Ray Griffin – Francis Martin | 3.82 | 15.01 | |
| Derrick Bowden – Mathew Little | 3.58 | 14.49 | |
| Dwayne Bingham – Alex Michaux | 3.97 | 14.43 | |
| Gary Colewell – Ryan Roller | 4.07 | 13.99 | |
| Donnie Avant – Randy Waterman | 3.78 | 13.47 | |
| Trip Emerson – Sean Gunter | 5.07 | 13.03 | |
| Ray Emerson – Kevin Hyler | 3.05 | 12.66 | |
| Joey Talbott – Michael Deen | 0.00 | 12.31 | |
| Bryan Cottrell – Ellis Jones | 4.50 | 11.56 | |
| KC Choosakul – Steven Jacobs | 0.00 | 11.03 | |
| Ken Mcneil – Clay Ausley | 3.86 | 10.45 | |
| Vinson Nettles – Terrence Cotton | 0.00 | 10.03 | |
| Mike Dinterman – Scott Smith | 0.00 | 9.44 | |
| Walt Bowen | 4.49 | 9.27 | |
| Mark Whitmore – JJ Stowers | 4.73 | 8.31 | |
| Dylan Gauldin – Brad Gauldin | 0.00 | 0.00 | |
| Total Entrys | | | $2,280.00 |
| BONUS $ | | | $675.00 |
| Kerr 2018 Fall Final Fund | | | $1,680.00 |
| Kerr 2018 Fall Final Total Payback | | | $4,635.00 |
| Kerr 2018 Grand Total Paid Spring/Fall | | | $38,180.00 |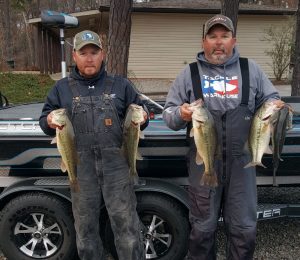 2nd Place Brian Calloway & William Hubbard