Next up for the Kerr Spring Trail is Feb 25th 8am to 4 pm at Occoneechee State Park!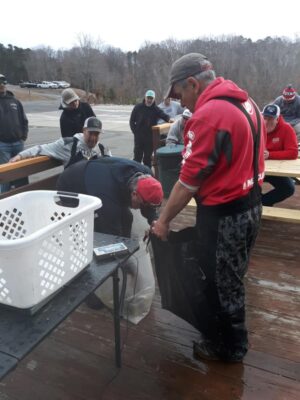 2 HUGE Events coming to Kerr Lake in 2023!
The Carolinas Bass Challenge is April 1st! 1st Place is $8,000.00 to $10,000.00! Tap on the link for more info!
The 2023 Academy CATT Championship is May 20-21 on Kerr Lake! Last year we had 218 teams enter and 1st Place took home $29,000.00! Tap on the link!
2023 CATT Academy Championship – Carolina Anglers Team Trail (cattteamtrail.com)
We're off and running at Kerr Lake with 50 teams entering the 1st 2023 Kerr Lake Spring Qualifier! Come join us Feb 25th!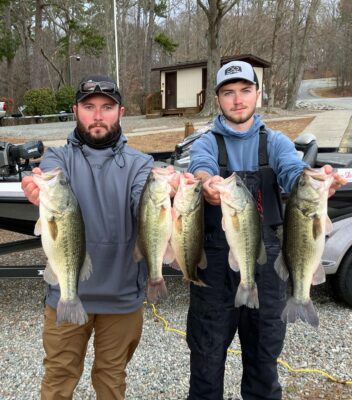 Shane Doughtie & Evan White took 1st Place with 5 bass weighing 17.41 lbs and earned $1,770.00!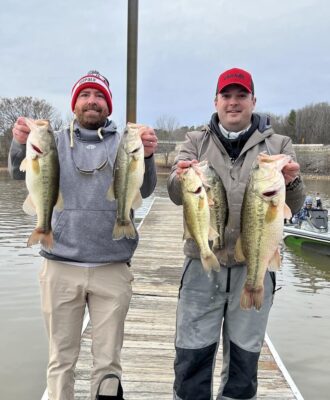 Andrew Kerns & Gray Williams weighed in the BF at 7.16 lbs which boosted them toa 4th Place finish worth $920.00!
| | | | | |
| --- | --- | --- | --- | --- |
| Team | BF | Weight | Winnings | Points |
| Shane Doughtie – Even White | 0.00 | 17.41 | $1,770.00 | 110 |
| Tyler Trent – Ricky Trent | 0.00 | 17.38 | $1,110.00 | 109 |
| Gary Colwell – Brandon Gray | 0.00 | 17.01 | $410.00 | 108 |
| Gray Williams – Andrew Kerns | 7.16 | 16.97 | $920.00 | 107 |
| Darrell Wyatt – Jerry Wyatt | 0.00 | 16.04 | $200.00 | 106 |
| Doug Stallings – Seth Ellis | 0.00 | 15.85 | $150.00 | 105 |
| Lynn Fox – Jeff Hodges | 0.00 | 15.40 | $125.00 | 104 |
| Randy Goss – Owen Penhollow | 0.00 | 14.87 | $110.00 | 103 |
| Allex Sayore – Todd McCormick | 0.00 | 14.01 | $100.00 | 102 |
| Kevin Cheatham – Johnny Wilder | 0.00 | 14.00 | $100.00 | 101 |
| Ray Griffin – Donnie Yarborough | 0.00 | 13.76 | | 100 |
| Tony Crabb Jr – David Grantham | 0.00 | 13.57 | | 99 |
| Terry Freeman – Teddy Freeman | 5.29 | 13.45 | | 98 |
| Bryan Welch – Mark Inman | 0.00 | 13.15 | | 97 |
| Michael Stewart – Buck Clark | 5.53 | 13.10 | $150.00 | 96 |
| Eric Christian – Matt Harriosn | 0.00 | 12.41 | | 95 |
| Roger Clary – Justin Rhew | 0.00 | 12.31 | | 94 |
| Eddie Glascock – Billy Dunn | 0.00 | 12.30 | | 93 |
| Dan Jackson – Charlie Gunter | 0.00 | 12.06 | | 92 |
| Michael Garner – Billy Shelton | 0.00 | 11.90 | | 91 |
| Tyler Calloway | 0.00 | 11.48 | | 90 |
| Jason Houchins – Danny Houchins | 0.00 | 11.15 | | 89 |
| Billy Bledsoe – Dane Butler | 0.00 | 11.14 | | 88 |
| Brian Cantrell – Ellis Jones | 0.00 | 11.10 | | 87 |
| Brock Rouse – Adam Richardson | 0.00 | 10.86 | | 86 |
| Mark Jackson – Morris Mustain | 0.00 | 10.85 | | 85 |
| Larry Freeman – Shack Freeman | 0.00 | 10.69 | | 84 |
| Chris Bowin – Dacota Lucy | 0.00 | 10.05 | | 83 |
| Allen White – Mike Vaughn | 0.00 | 9.97 | | 82 |
| Kris Goin – Jason Tinsley | 4.86 | 9.80 | | 81 |
| Lonnie Whitfield – Phillip Smith | 0.00 | 9.58 | | 80 |
| Jonathan Rhew – Mike Rhew | 0.00 | 9.36 | | 79 |
| Jay Fogleman – John Pilcher | 0.00 | 9.05 | | 78 |
| Josh Barnes – Jay Rigny | 0.00 | 8.98 | | 77 |
| Randy Waterman – Donnie Avant | 0.00 | 8.85 | | 76 |
| Michael Harris – Michael Harris | 0.00 | 0.00 | | 66 |
| Nelson Mayton – Chris McDaniel | 0.00 | 0.00 | | 66 |
| Josh Ashley – Cam Johnson | 0.00 | 0.00 | | 66 |
| Reginald Norflett – Craig Johnson | 0.00 | 0.00 | | 66 |
| Kenny Wilson – Lycia Niethammer | 0.00 | 0.00 | | 66 |
| Joey Dawson – Kevin Dawson | 0.00 | 0.00 | | 66 |
| Greg Lahr – Mike Mull | 0.00 | 0.00 | | 66 |
| Michael Birr – Dexter Andrews | 0.00 | 0.00 | | 66 |
| Stump Bledsoe – Glenn Elliot | 0.00 | 0.00 | | 66 |
| Billy Orr – John Parson | 0.00 | 0.00 | | 66 |
| Alden Patterson – Zach Smith | 0.00 | 0.00 | | 66 |
| Dennis Reedy – Scott Smith | 0.00 | 0.00 | | 66 |
| Mike Corbishley – Bryson Peed | 0.00 | 0.00 | | 66 |
| Marty Warren – Bryan Calloway | 0.00 | 0.00 | | 66 |
| Aaron Falwell – Steven Coleman | 0.00 | 0.00 | | 66 |
| Total Entrys | | | $4,000.00 | |
| BONUS $ | | | $1,650.00 | |
| Total Paid At Ramp | | | $5,145.00 | |
| Kerr 2023 Spring Final Fund | | | $405.00 | |
| CATT | | | $50.00 | |
| 2023 CATT Championship/Phantom Fund | | | $50.00 | |
| 2023 Kerr Spring Final Fund Total | | | $405.00 | |