We had a record crowd of 46 teams entering the Yadkin Badin Lake Qualifier this past weekend! This is the remaining events on the Yadkin Trail this Spring! Come join us!
Coming up soon! The 2022 CATT Academy Championship! A minimum of $10,000.00 1st Place! We usually have 180 to 190 teams enter! Tap on the link for more Info!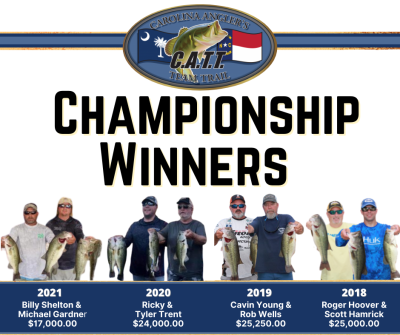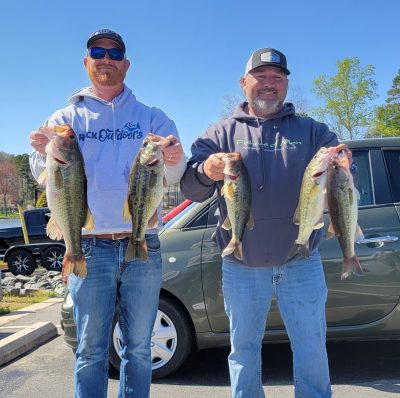 Bud Ratliff & Dustin Horne take the win at Badin Lake with 5 bass weighing 17.46 lbs! They also weighed in the 2nd BF at 5.53 pushing their total winnings to $1,773.00!
Austin Garland finished 2nd with 17.41 lbs!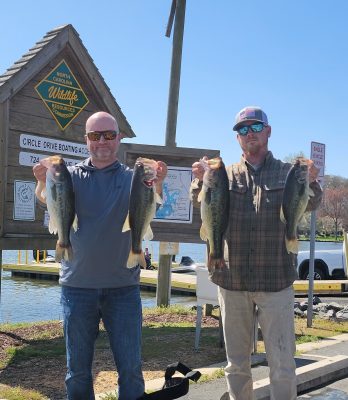 Shane Vaught & Dillon Kigor claimed 3rd with 17.32 lbs!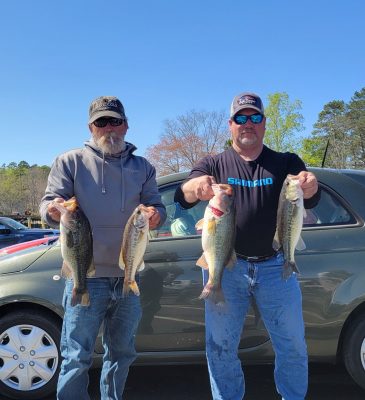 Johnny Heaton & Scott Henley took 4th with 16.74 lbs and brought in the Academy BF at 5.65 lbs!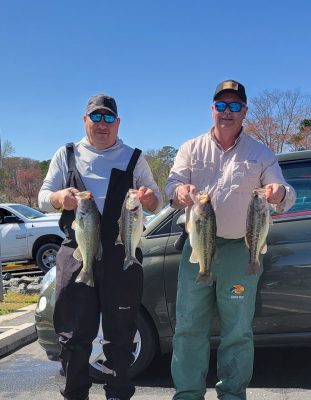 Mark Beck & Landon Whicker brought in 16.16 lbs to finish 5th!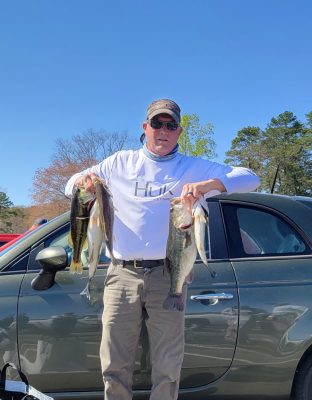 Lance Isenhour 6th with 16.02 lbs!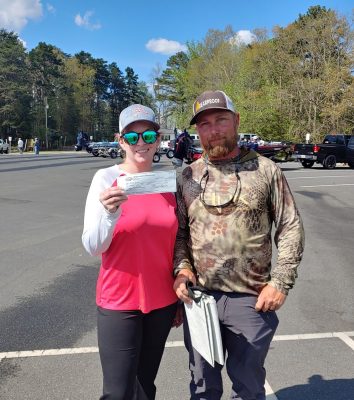 Mike Kyser 7th 15.92 lbs!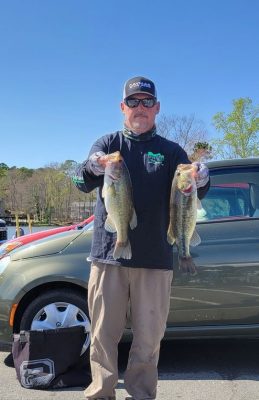 Chris Brown & Todd Harris 8th 14.95 lbs!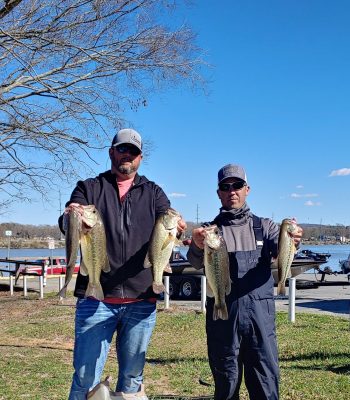 Michael Swaringen & CJ Johnston 8th Place 14.74 lbs!
| | | | | |
| --- | --- | --- | --- | --- |
| Team | BF | Weight | Winnings | Points |
| Bud Ratcliff – Dustin Horne | 5.53 | 17.46 | $1,773.00 | 110 |
| Austin Garland | 4.42 | 17.41 | $700.00 | 109 |
| Shane Vaught – Dillon Kigor | 4.60 | 17.32 | $445.00 | 108 |
| Scott Henley – Johnny Heaton | 5.65 | 16.74 | $582.00 | 107 |
| Ladd Whicker – Landon Whicker | 3.94 | 16.16 | $165.00 | 106 |
| Lance Isenhour | 5.02 | 16.02 | $125.00 | 105 |
| Mike Kiser | 5.51 | 15.92 | $115.00 | 104 |
| Chris Brown – Todd Harris | 3.82 | 14.95 | $110.00 | 103 |
| Michael Swaringen – CJ Johnston | 3.51 | 14.74 | $90.00 | 102 |
| Dwayne Saunders – Robert Parrish | 0.00 | 13.40 | | 101 |
| Matt Stanley | 5.13 | 13.21 | | 100 |
| John Kistler – Rusty Melton | 0.00 | 13.04 | | 99 |
| Curt Lare | 0.00 | 12.93 | | 98 |
| Tanner Albright – Dillon Johnson | 0.00 | 12.77 | | 97 |
| Josh Stafford | 4.79 | 12.27 | | 96 |
| Shawn Knight – Ron Wolfarth | 0.00 | 12.15 | | 95 |
| Scott Faulkner – Tony Brewer | 0.00 | 12.05 | | 94 |
| Dakota Roberts – Brad Cooper | 0.00 | 11.81 | | 93 |
| Carl Myers – Orlando Giles | 0.00 | 11.64 | | 92 |
| Mike Lawhon – Sam Lawhon | 0.00 | 11.47 | | 91 |
| Brad Austin – Ethan Austin | 0.00 | 11.42 | | 90 |
| Hunter Harwood – Scott Harwood | 0.00 | 11.17 | | 89 |
| Todd Hammond – Matt McBee | 0.00 | 10.75 | | 88 |
| Hardon Collins – Shawn Poteat | 4.69 | 10.09 | | 87 |
| Camerson Linebuck –  Chris Barnes | 0.00 | 10.01 | | 86 |
| Zach Scelsi – Kris Scelis | 4.10 | 9.91 | | 85 |
| Thomas Furr – Mike Allen | 0.00 | 9.57 | | 84 |
| Byron Brush | 0.00 | 9.40 | | 83 |
| Duke Denison – Bobby Cline | 4.52 | 9.04 | | 82 |
| Nick Bashford – Trent Bashford | 3.82 | 8.13 | | 81 |
| Josh Griffin – Daniel Griffin | 0.00 | 7.17 | | 80 |
| Justin Klutz – Jason Klutz | 0.00 | 4.06 | | 79 |
| Shane Kennedy – Devin Kennedy | 0.00 | 4.02 | | 78 |
| Jared Pressley – Drew Hartley | 0.00 | 3.91 | | 77 |
| Row Barrow – April Barrow | 0.00 | 0.00 | | 67 |
| Zach Gooch – Greg Gooch | 0.00 | 0.00 | | 67 |
| Todd Butler – Jeffrey Furr | 0.00 | 0.00 | | 67 |
| Jason Riggs – Steve Sink | 0.00 | 0.00 | | 67 |
| Jerry Bono – Jerry Davis | 0.00 | 0.00 | | 67 |
| Jacob Bridges – Brady Weisner | 0.00 | 0.00 | | 67 |
| Dale Hedrick – Paul Hedrick | 0.00 | 0.00 | | 67 |
| Michael Kitchens – Johnny Byrd | 0.00 | 0.00 | | 67 |
| Buddy Ritchi – Brad Smith | 0.00 | 0.00 | | 67 |
| Ricky Myers – Katelyn Myers | 0.00 | 0.00 | | 67 |
| Weston Lineberry – Jordan Taylor | 0.00 | 0.00 | | 67 |
| Paul Tsiolkas | 0.00 | 0.00 | | 67 |
| Total Entrys | | | $3,680.00 | |
| BONUS $ | | | $975.00 | |
| Total Paid At Ramp | | | $4,105.00 | |
| 2022 Yadkin Spring Final Fund | | | $450.00 | |
| 2022 CATT Championship Fund | | | $50.00 | |
| 2022 Yadkin Spring Final Fund Total | | | $1,325.00 | |