May 21-22 on Kerr Lake! More info tap on the link!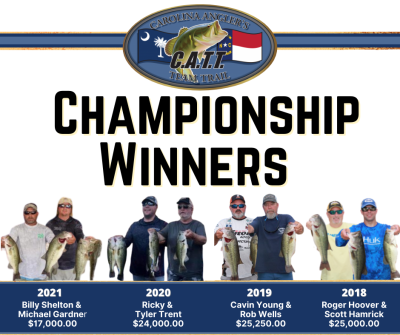 We had another great Spring on Kerr Lake! Total payback was over $35,000.00! At the bottom of each CATT results you can see a money recap! Scroll down to the bottom of the results here!
The 2022 Kerr Spring Final paid back over $10,000.00! Thanks for fishing with us! Check out the money winners! The top 3 cashed in BIG Time!
Philip Smith & Lonnie Whitfield took 1st Place with 5 bass weighing 18.02 lbs! With the Side Pot $ added in they took home $3,980.00!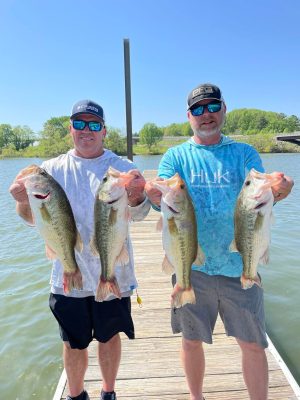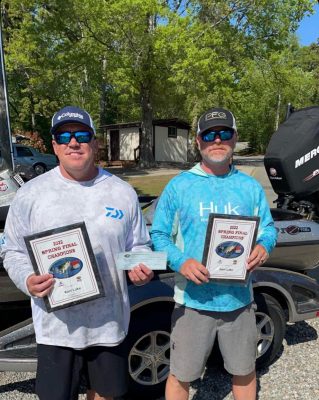 2nd Place Alden Patterson & Zach Smith with 15.16 lbs! $2,150.00!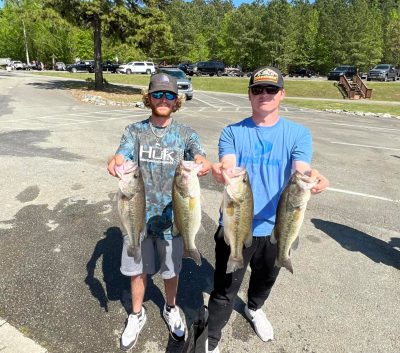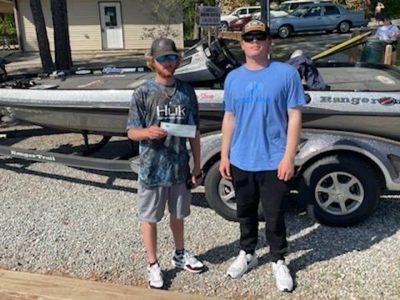 3rd Place Todd McCormick & Matt Easter 14.37 lbs! $1,460.00!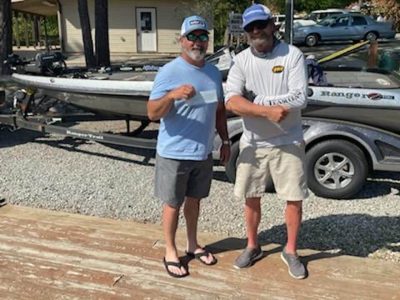 Tyler & Ricky Trent with their Kerr Spring Point Champs plaques!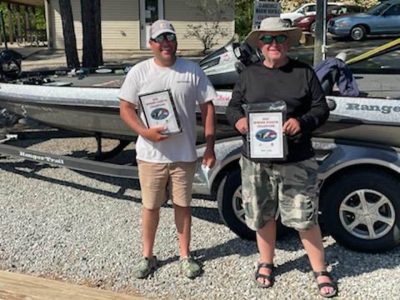 | | | | |
| --- | --- | --- | --- |
| Team | BF | Weight | Winnings |
| Philip Smith – Lonnie Whitfield | 4.21 | 18.02 | $3,980.00 |
| Alden Patterson – Zach Smith | 0.00 | 15.16 | $2,150.00 |
| Todd McCormick – Matt Easter | 4.75 | 14.37 | $1,460.00 |
| Tony Axt – Larry Witt | 4.37 | 14.10 | $600.00 |
| Roger Clary – Jonathan Rhew | 4.92 | 13.65 | $850.00 |
| Mark Inman – Tim Gardner | 3.63 | 13.60 | $350.00 |
| Vern Fleming – Glenn Long | 0.00 | 13.46 | $275.00 |
| Dave Stallings – Seth Ellis | 0.00 | 13.35 | $200.00 |
| Tyler Trent – Ricky Trent | 0.00 | 13.25 | $150.00 |
| Ryan Roller – Gary Caldwell | 3.35 | 13.14 | $125.00 |
| Kevin Cheatham – Johnny Wilder | 0.00 | 13.03 | $125.00 |
| Jacob Lee – Sam Terry | 0.00 | 12.83 | |
| Brian Calloway – Marty Warren | 0.00 | 12.71 | |
| Billy Orr – John Parson | 0.00 | 12.71 | |
| David Glenn – Jeff Staton | 0.00 | 12.24 | |
| Scott Daily – Tony Stanley | 0.00 | 12.22 | |
| Eddie Glascock – Billy Dunn | 0.00 | 12.19 | |
| Kevin Sheppard – Jerry Sheppard | 0.00 | 12.16 | |
| Lee Allard – Eric Massey | 3.85 | 11.93 | |
| Justin Rhew – Mike Rhew | 0.00 | 11.70 | |
| Josh Barnes – Jay Rignay | 0.00 | 11.54 | |
| Tommy Marrow – Dennis Reedy | 0.00 | 11.45 | |
| Brandon Curtis – Tom Wilkerson | 4.49 | 11.35 | |
| Wayne Andrews – Tim Tait | 3.78 | 11.26 | |
| Steve Lucy – Todd Dorton | 0.00 | 10.56 | |
| Daniel Jenkins – Logan Thornton | 0.00 | 10.51 | |
| Keith Patterson | 0.00 | 10.25 | |
| Bryan Cantrell – Brandon Cantrell | 0.00 | 10.19 | |
| Michael Dikun – Jenny Li | 0.00 | 9.92 | |
| David Bullock – Jimmy Henderson | 0.00 | 9.82 | |
| Tony Tombs – Pete Church | 0.00 | 9.70 | |
| Cavin Youngue -Robb Wells | 0.00 | 8.35 | |
| Kenny Wilson – Lycia Niethammer | 4.46 | 8.28 | |
| Peter Carter – Donald Coleman | 0.00 | 7.60 | |
| Jerry Wyatt – Donnie Bohannon | 0.00 | 0.00 | |
| Michael Harris | 0.00 | 0.00 | |
| Matt Noraas – Kevin Kane | 0.00 | 0.00 | |
| Dan Dalton – Tyler Calloway | 0.00 | 0.00 | |
| Steven Coleman – Aaron Falwell | 0.00 | 0.00 | |
| Nelson Mayton – Chris McDaniel | 0.00 | 0.00 | |
| Matthew Little – Derek Bowden | 0.00 | 0.00 | |
| Danny Moss | 0.00 | 0.00 | |
| Casey Logan | 0.00 | 0.00 | |
| Michael McMillian – Brice McMillian | 0.00 | 0.00 | |
| Dennie Gilbert – Charlie Reed | 0.00 | 0.00 | |
| Chuck Taylor – Mike Connely | 0.00 | 0.00 | |
| Mark Jackson – Morris Mustain | 0.00 | 0.00 | |
| Paul Smith – Jason Lloyd | 0.00 | 0.00 | |
| Travis Owen – Mark Hatcher | 0.00 | 0.00 | |
| Brian Youngue | 0.00 | 0.00 | |
| Randy Waterman – Paul Worthington | 0.00 | 0.00 | |
| Total Entrys | | | $6,000.00 |
| BONUS $ | | | $1,950.00 |
| Kerr Spring Final Fund | | | $2,200.00 |
| Total Paid At Ramp | | | $10,140.00 |
| Total Paid Spring 2022 Kerr Lake | | | $35,880.00 |